Author:
Gloria Corradini
Short summary:
The uncut meadows around the Augustinian Abbey in Herzogenburg became common playground and classroom for the kids attending the Lower Austrian Children's Summer Games this year! Trees, herbs and insects attracted them and their families into the Green Steps learning experience
NÖKISS 2021 - A REVIEW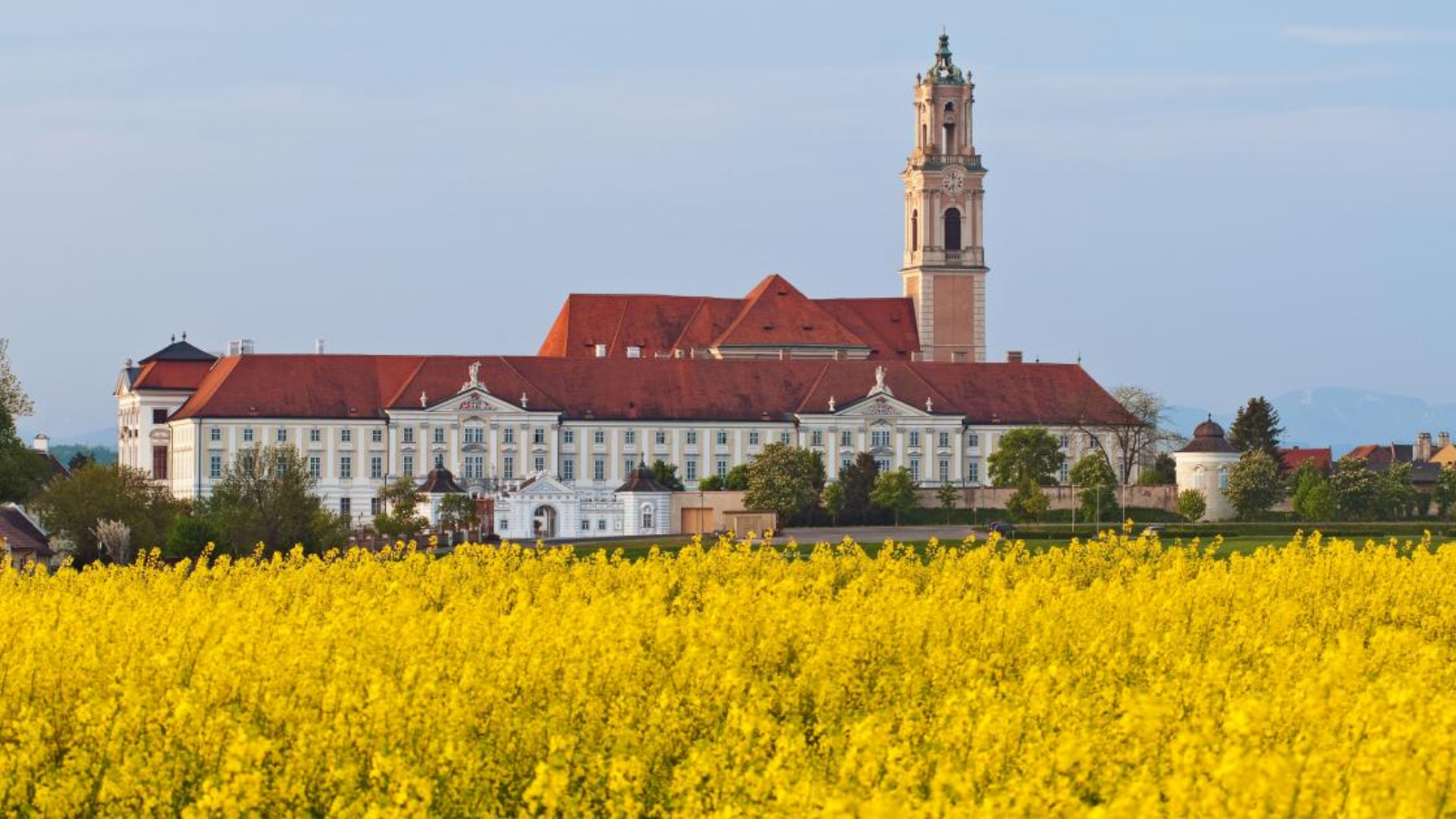 This year, Green Steps took part for the first time at the NÖKISS (Niederösterreichische Kinder Sommer Spiele meaning Lower Austrian Children's Summer Games). It is one of the largest children's cultural festival in Austria. It was established in 1971 as a small festival just to finance the purchase of tents for a summer camp; it was a success and nowadays it counts more than 1000 employees, and it attracts around 16.000 guests! It lasts 6 days, separated in 2 weekends, and the participants can enjoy theatre, music and dance performances, circus, puppet theatre, ghost houses and many more handcraft, drawing and playing activities. Moreover, all this is crowned by its majestic location: the inner courtyards and the historic gardens of the Augustinian Abbey in Herzogenburg about 10 km away from St. Pölten. It is a 900 year old monastery, refurbished in its current Baroque style in 1714 and regarded as the most important building of the Austrian late baroque period.

Unlikely any other booth, Green Steps was the only organization focusing on exploring the "wild" nature of the abbey's orchard. The orchard was left on our request untouched and thus the end of summer meadows stayed high instead of being cut down. Our first location exploration showed that biodiversity was really scarce in terms of trees. In fact, there were only a few species of fruit trees, such as apples, apricots, pears, plums and, cherries. Hence, life below our feet caught our attention: brown crickets, green katydids, butterflies, bees, bugs, and spiders were moving around on carpets of little, colourful, pretty flowers.
At first, we came up with three different guided activities: "terrific trees", in the morning, about fruit trees and the Rosaceae family; "ingenious insects", in the early afternoon, about whatever insect could had been caught and identified; and "healing herbs", later in the afternoon, focusing on herbs in the Asteraceae family and their uses in the kitchen. Yet, from the first cold morning at the NÖKISS, we realized that guided tours at fixed time blocks would not work in this kind of festival. Kids were busy coming and going and being pulled into different booths; like bees on flowers, they needed to get some "nectar" at the moment they passed by.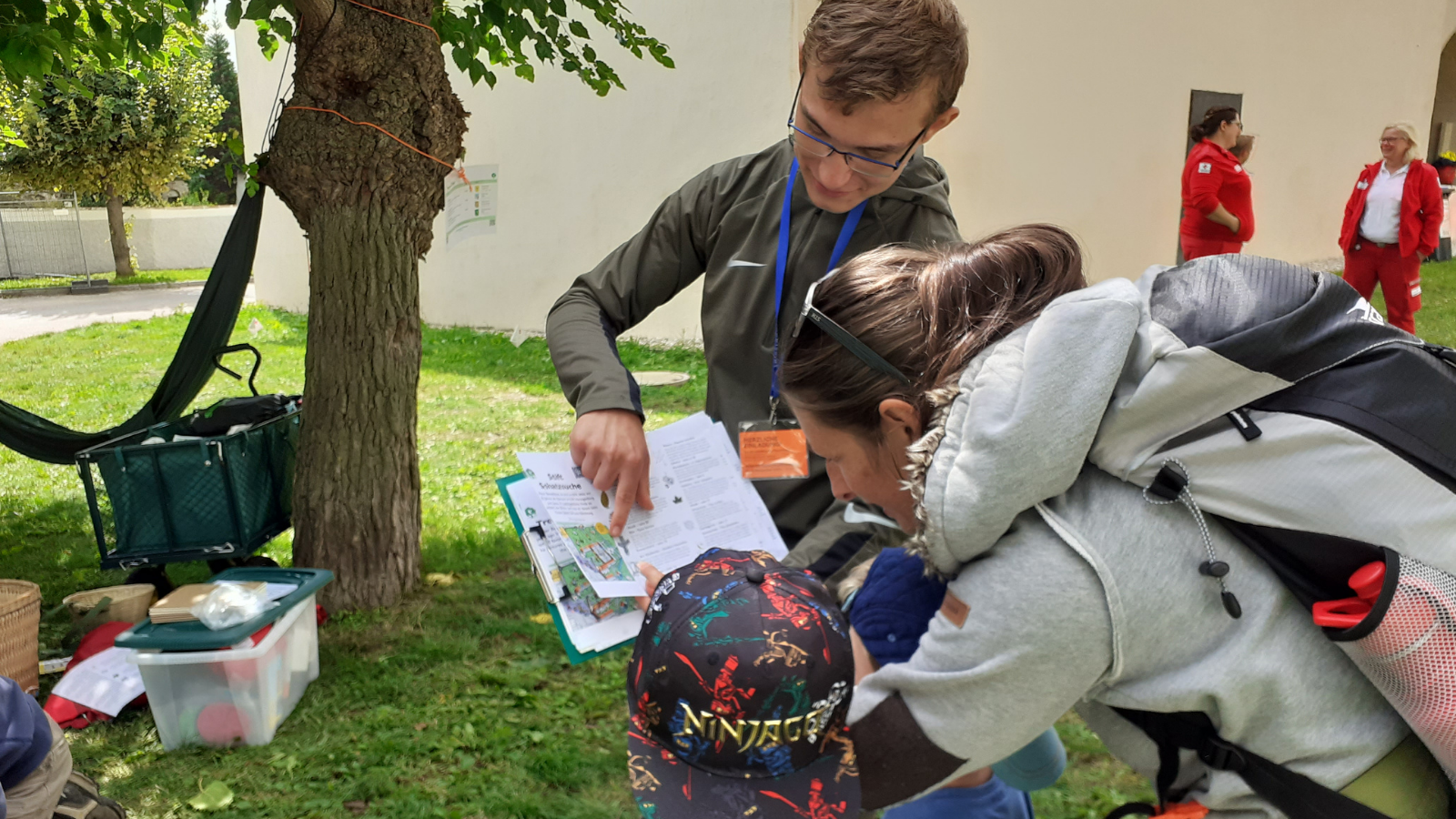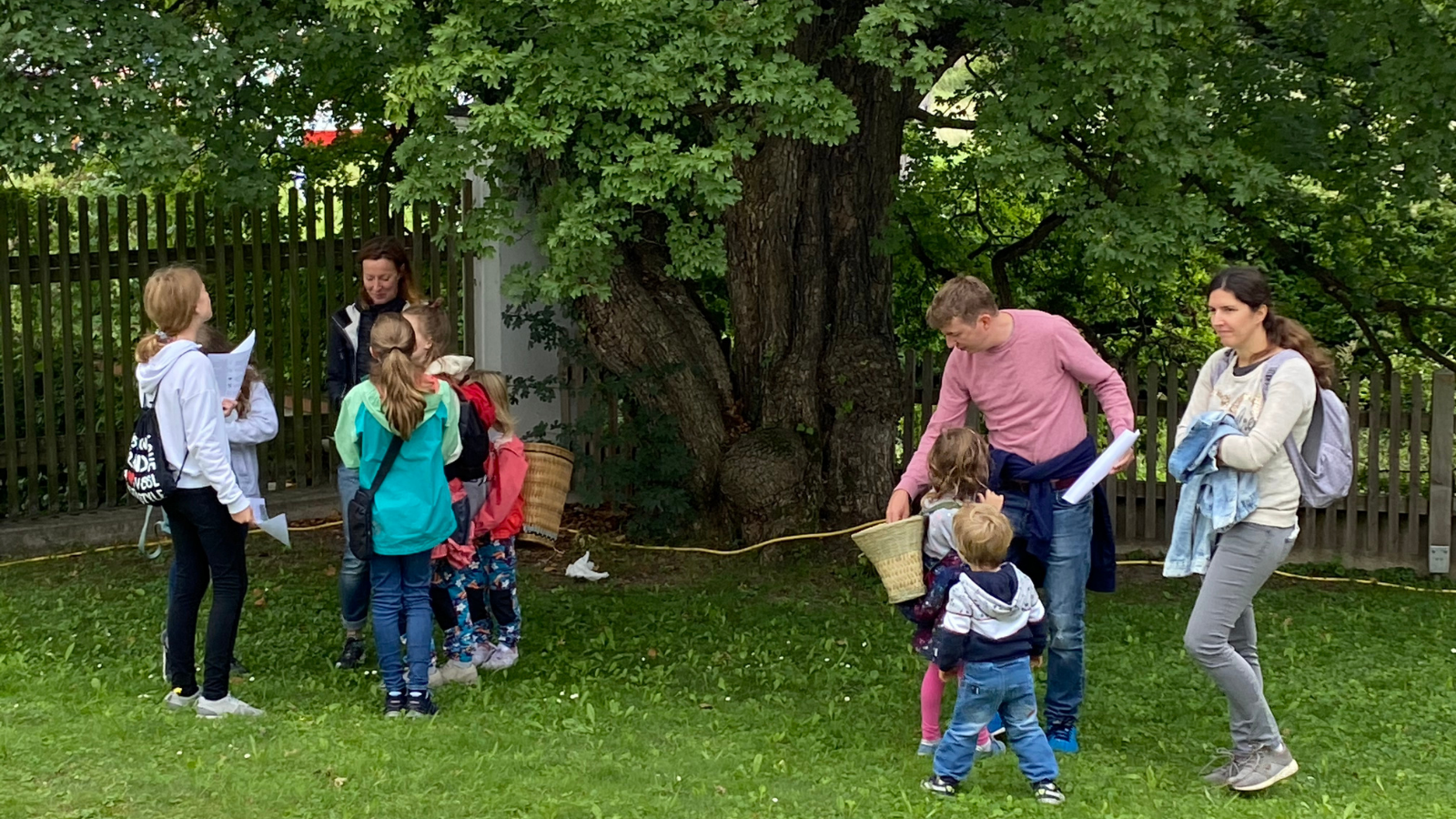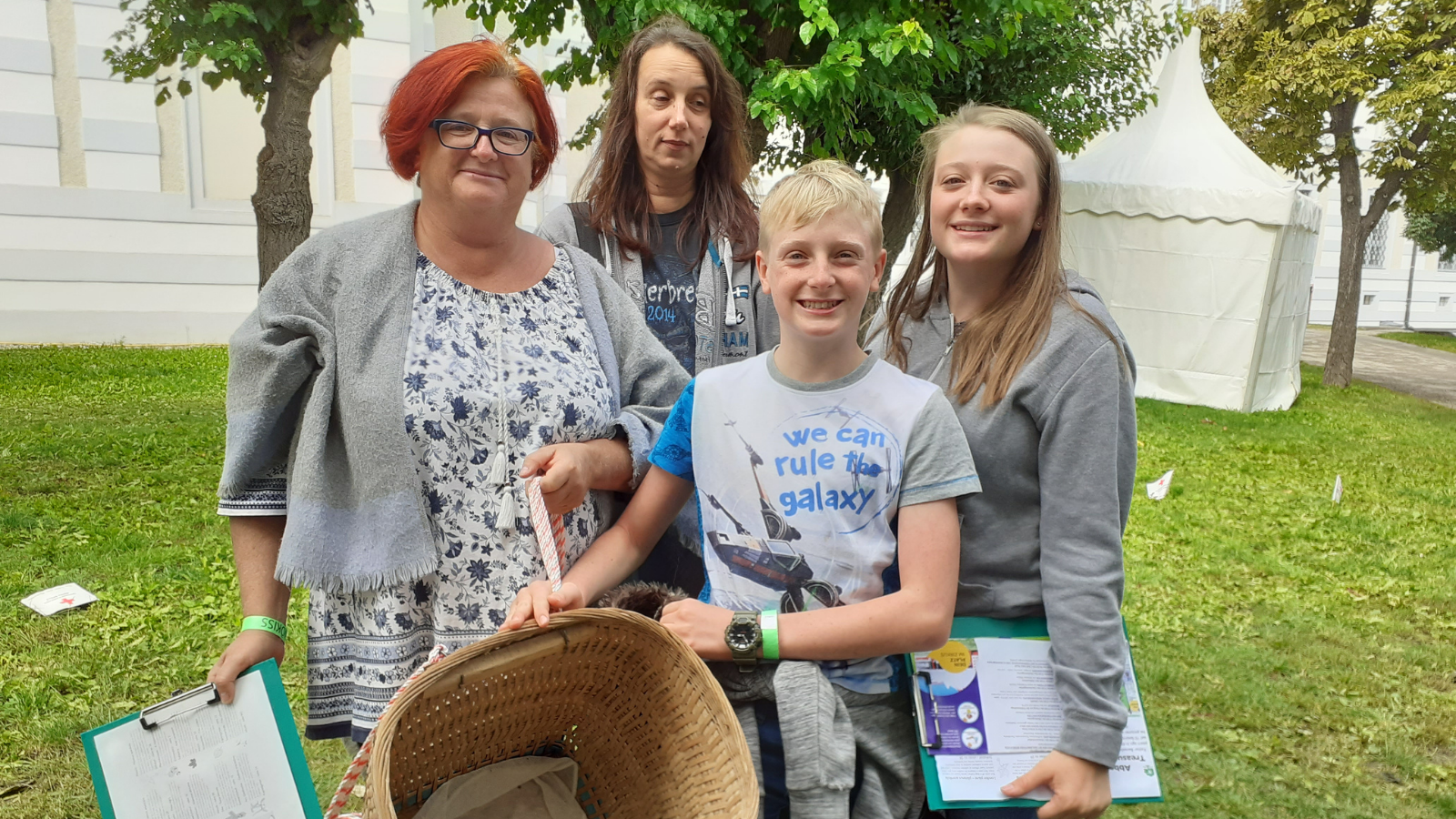 The same afternoon, without wasting time, we designed out first treasure hunt. We selected ten different trees, from different species, within the inner courtyards; we located those trees on the NÖKISS's map, we wrote a few interesting facts about the trees, and we added the shape of the leaves or of the fruit as a hint to recognise the tree. Each kid it was asked to collect a leaf or a fruit from each of the "hunted" trees. From the second morning at the festival, we were relieved to see that our treasure hunt was a success!! Families were coming close to us attracted by our beautiful bamboo's Chinese baskets. At that point, we were asking them to join our treasure hunt, and the kids were getting a basket to collect the "treasures".

The second part of the activity was focused on nature journaling. Each kid that managed to collect all ten tree species, was rewarded with a nature journal; plus, we were sitting together on a blanket attaching and drawing leaves and fruit from their favourite tree species to show them how to use the journal.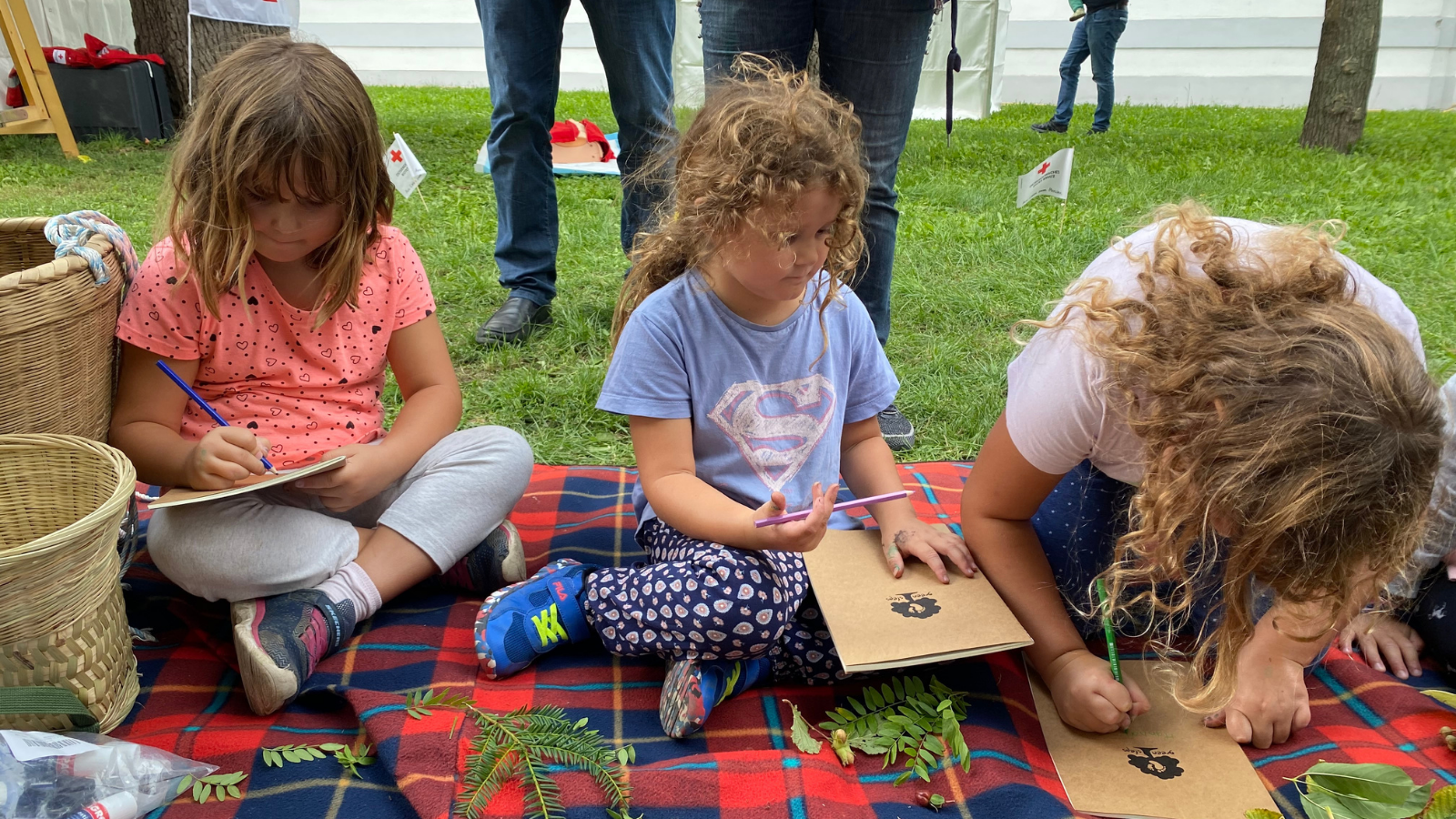 Since we realized that same kids were often coming back to the NÖKISS in consecutive days, we decided to design two more "treasure hunt" for the second weekend: one about insects, and the other about herbs. Both were taking place in the orchard, which could have been found by following the animal flags that we previously installed. For the insect hunt, we were giving to each child 3 insect boxes and an insect net; once collected the insects, they had to come back to our tent for nature journaling.

For the herbs, we were giving them a paper showing picture of 8 different edible herbs that they could find in the orchard; the paper was also explaining which part of the plants were edible and few easy recipes. Also in this case, we were waiting for them at the tent to talk about the herbs and write the nature journal.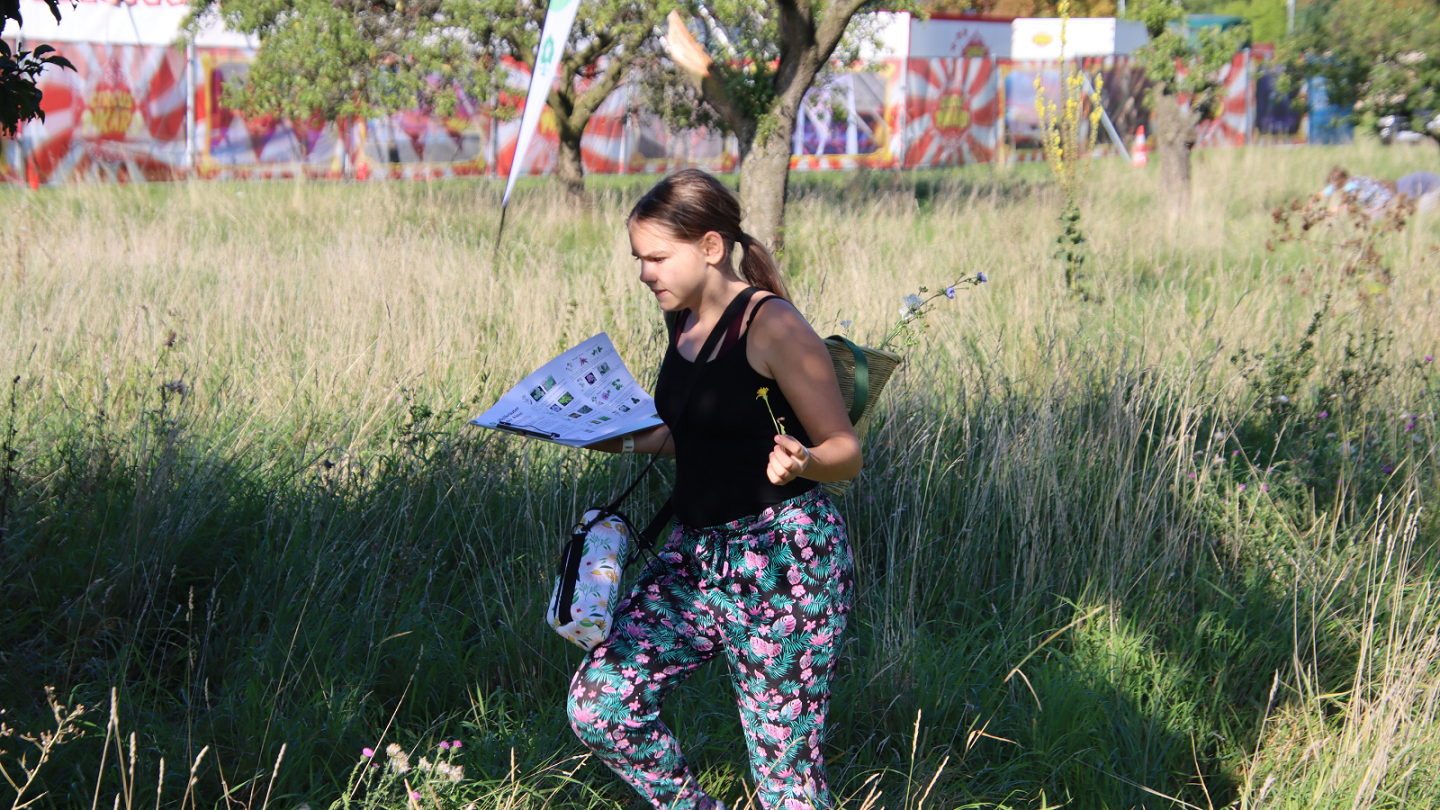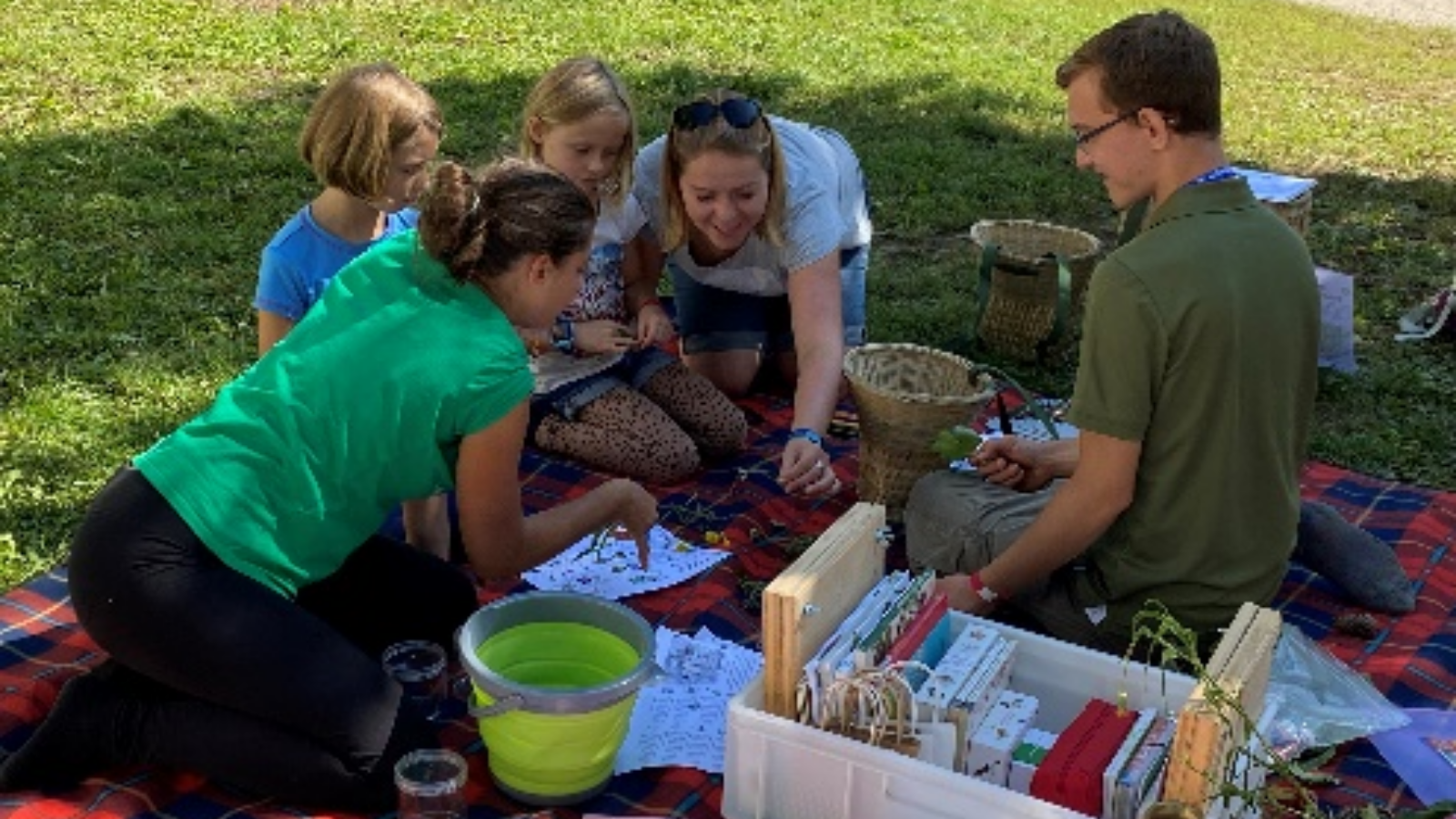 For me this was a really great experience! I loved to create activities just starting from an abandoned orchard; just thinking what can be interesting in here…or better… how can I make it interesting! And while creating the concept and species cards I was also learning a lot about the most common species of flora and fauna that can be found in this bioregion. But the best reward was to see the children and even their parents so much engaged in those activities! It was fun to observe the fathers leading the family and realizing that it was a challenge for themselves to recognize common trees. Which unfortunately, just underlines the big gap of knowledge about surrounding nature in our society. However, many parents congratulated us for the innovative idea to teach their kids about nature! I have also been talking to parents thinking that their kids weren't attracted by the topics, but once their kids saw those colourful little (or less little) insects moving in the insect boxes they just piked an insect net and started running behind insects for like an hour! Natural journaling sessions were important, especially for the older kids, to make sure that they understood what they have found and to show them a tool to remember those.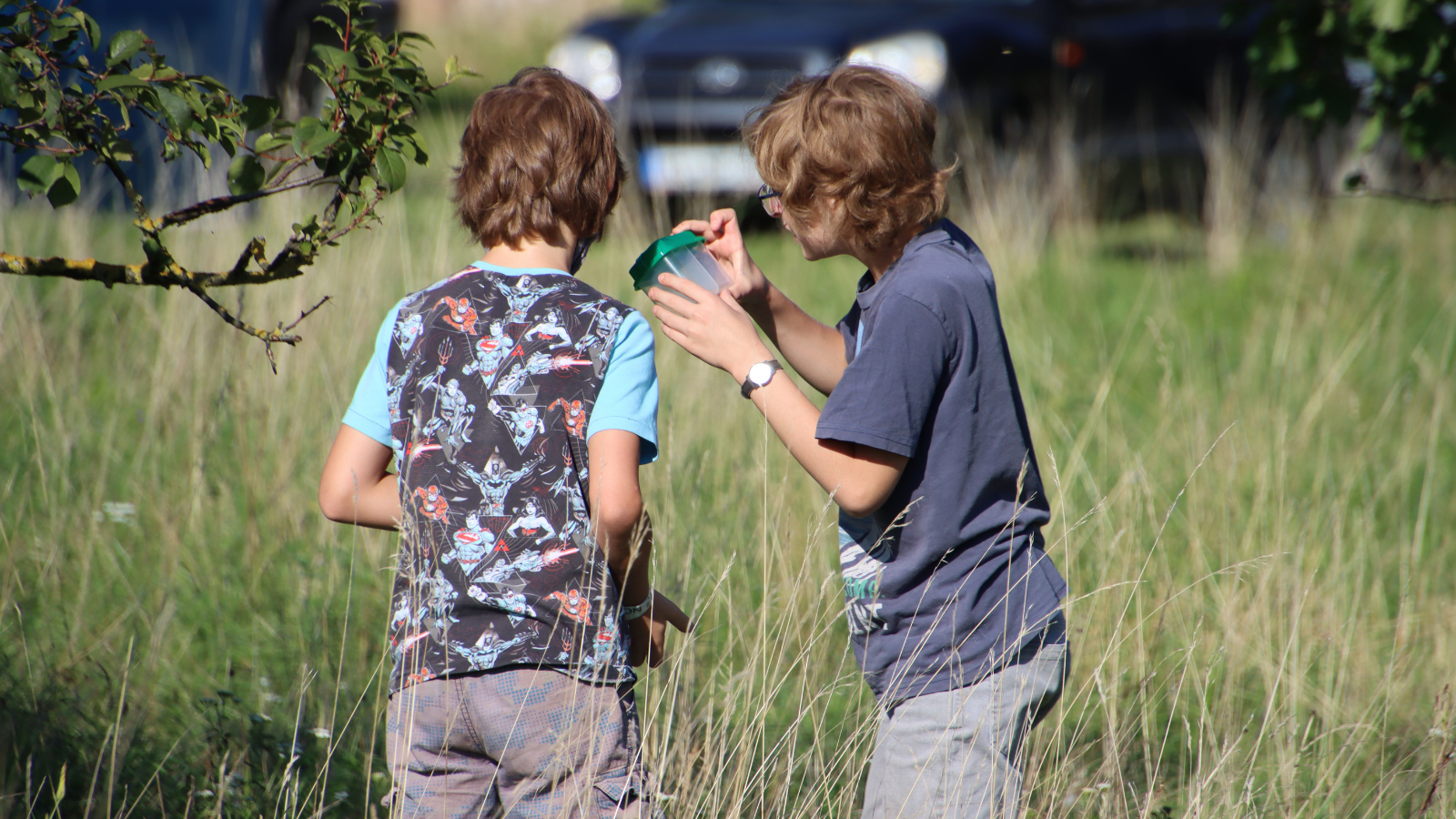 Unfortunately, due to my almost non-existing German skills it was hard for me to get connected to the kids. Some of the smallest children were even scared of me speaking in English! However, most of the times I could speak with the parents that were translating for their kids; the older kids could understand me, but hardly talked back. Still, a couple of time I have got to do nature journaling with older girls that had an above average English knowledge, and they were just so proud that they could understand and talk to me!! One last point, it was lovely to see that some children enjoyed our activities so much that they came back to do all three of them, bringing with them their nature journals.

To conclude, the NÖKISS was a great opportunity for me to get my first experience with nature education, but also, I am sure we brought something totally new into this "conservative" festival, and I hope that those children that participated in our activities will remember us, keep drawing in their nature journals, and stay curious about nature in all its shapes!