Author:
Joan Elizalde, October 2019
Short summary:
Learn about the Green Steps Plastic Pirates campaign, just next door to one of the most crowded cities of the world. What plastic pollution means, how it is affecting the ocean, and how beautiful and interesting it is to explore the wildlife of Shanghai—these are the ideas we learn.
At a short 30-minute drive from downtown, the Wusong Wetland & Forest National Park is one of a kind. It has a stunning diversity of flora and a privileged position as one of the best bird watching shorefronts of Shanghai. What makes this place so special and why should we care about it?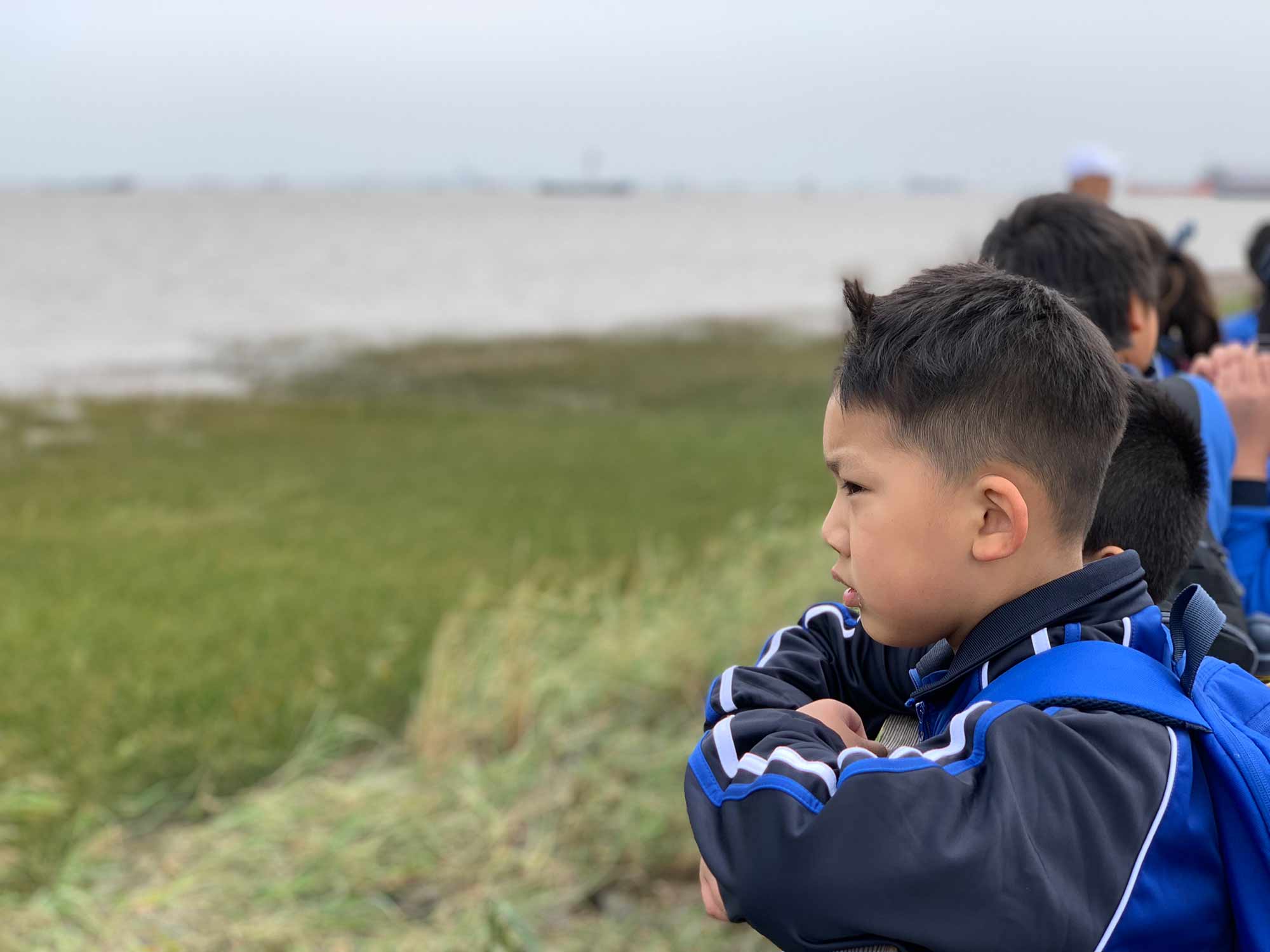 Located in Baoshan district, an ex-industrial neighborhood on the northeastern part of Shanghai, the park is next to the international ferry arrivals port, where thousands of visitors enter the city after spending days at sea. It is at a geostrategic crossroad between the last section of the Huangpu, the Yangtze, and the East China Sea. It is an intersection of vital ecologic relevance due to the major water bodies that meet: the longest river in Asia, passing through some of the biggest cities on Earth, its last affluent the Huangpu, crossing the effervescent Shanghai and melting in the Yellow Sea.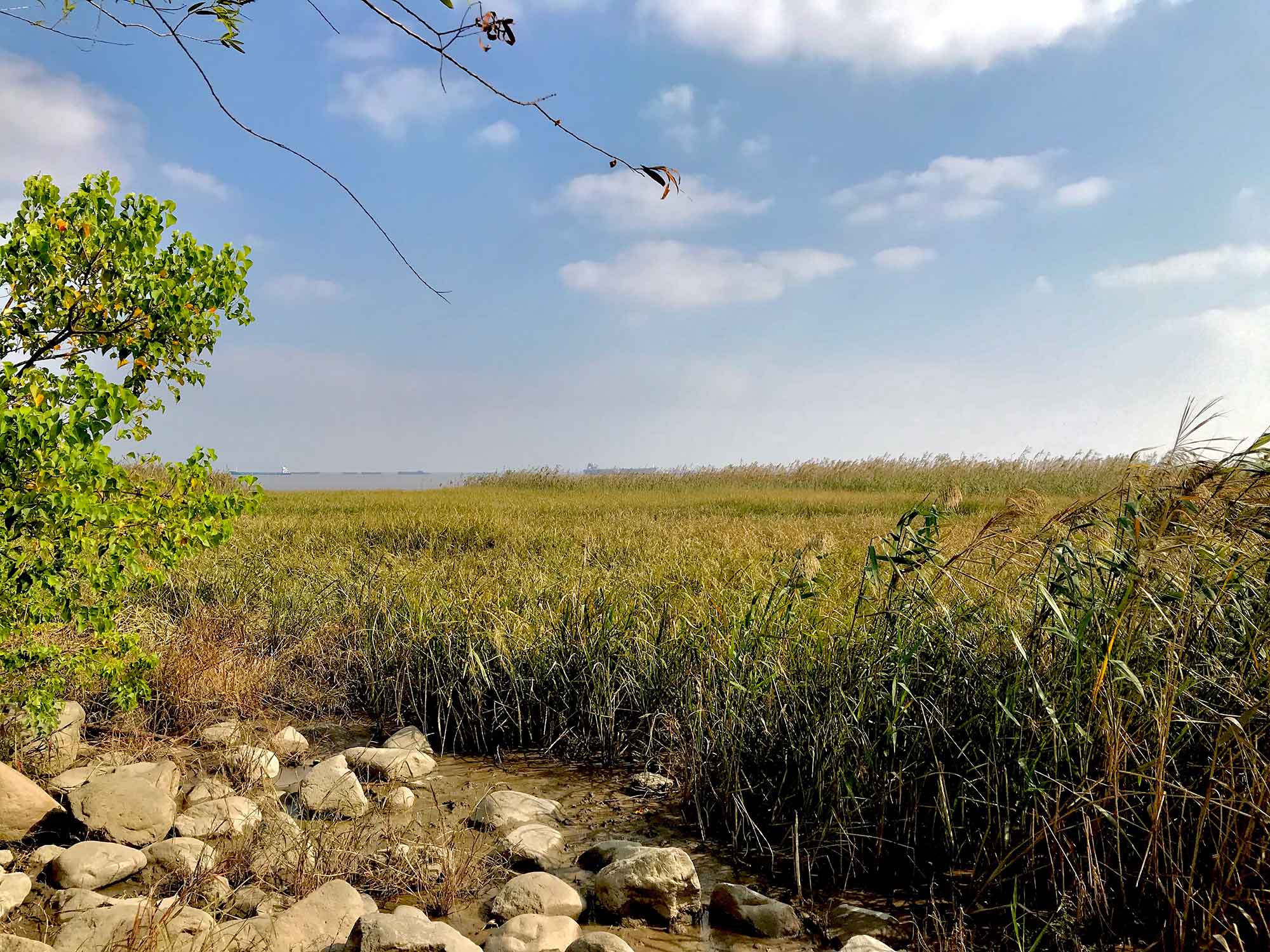 Water, besides being the main component of our bodies and what makes our planet so unique, is a vehicle for most of the chemical reactions; with titanic force it carries nutrients, debris, and erodes the surface of the earth while it completes its cycle. It moves incredible amounts of substances from the land towards the sea, often across countries, if not continents, on an epic journey. An abundant flow of mineral particles that started their trip on the northern part of the Himalayan plateau, more than ten thousand years ago, created the rich foundation of a fertile agricultural land for the prosperous civilization of the Yangtze River delta and finally into the East China Sea . Now it is more than nutrients, it is also an abundant flow of garbage, often plastics, most of them microplastics that are entering the big blue.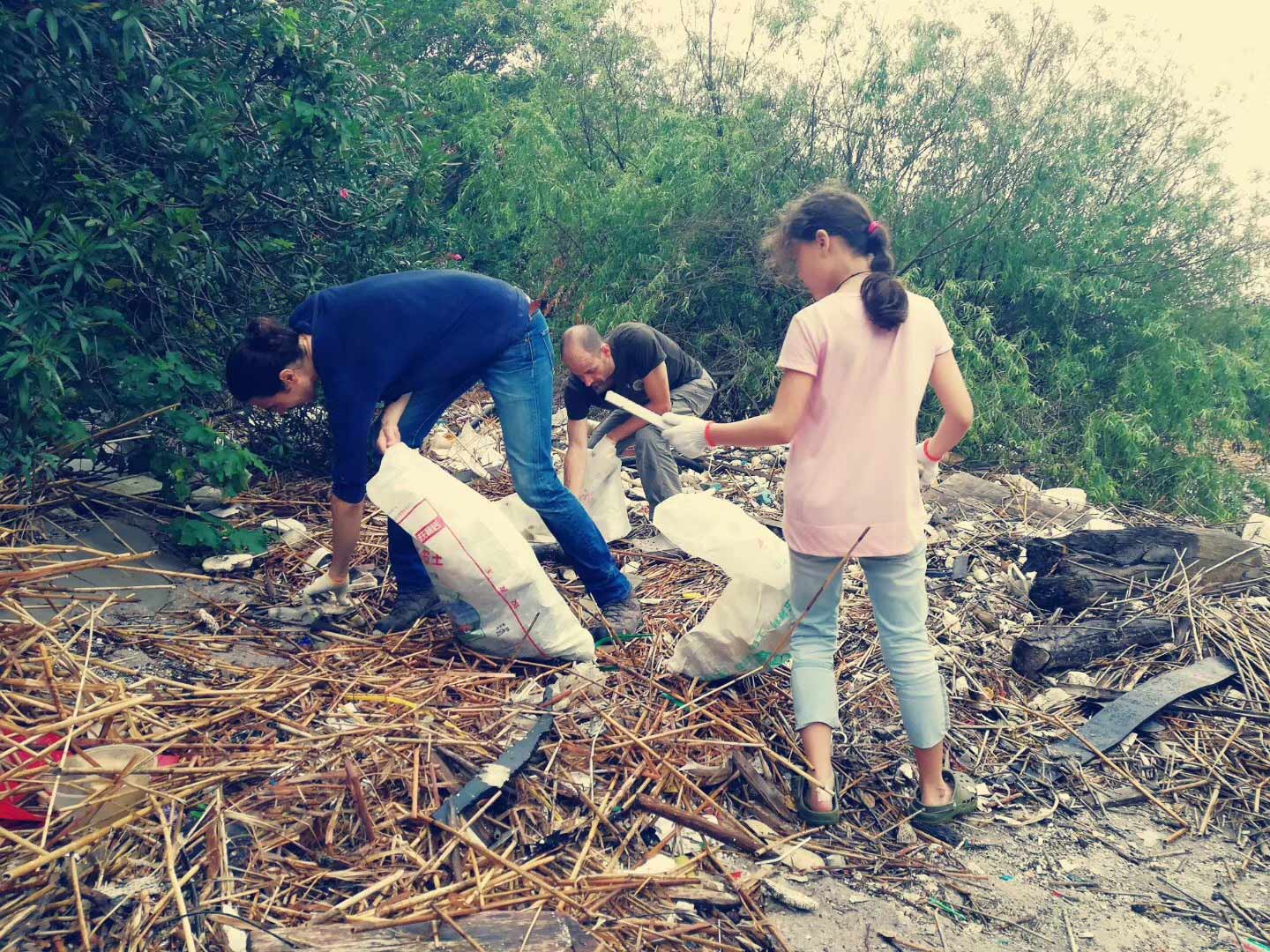 Because of its special location, the shoreline of Wusong inevitably collects, to the despair of the park authorities who organize daily raids to maintain most of it in proper "visiting conditions", incredible amounts of floating waste. Some of it is brought back by the sea tides, and some by the river . It is a showcase of our consumption habits, of our society's environmental issues, and in particular a memorandum of how big the problem of ocean pollution is.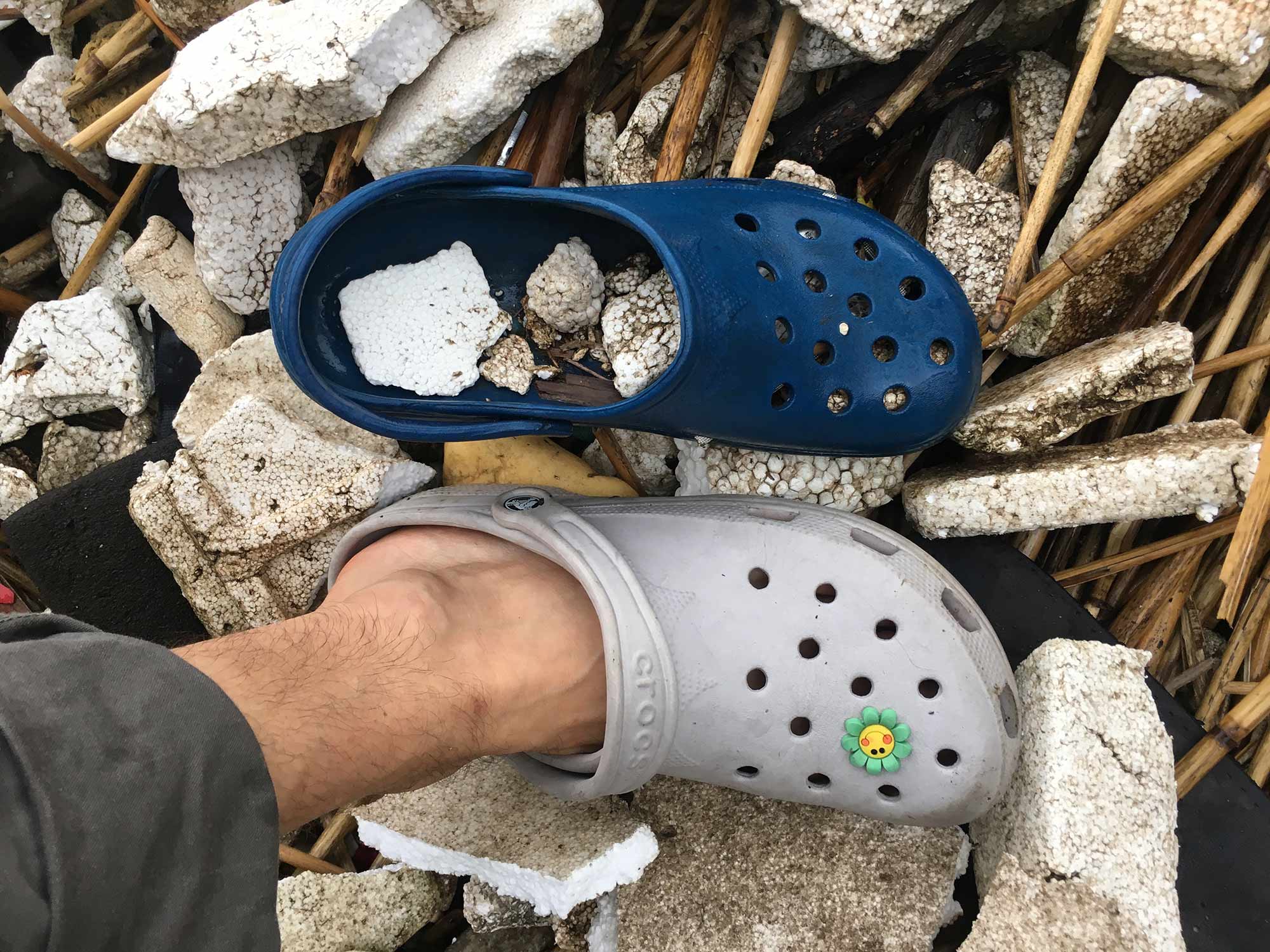 We don't need to search the Internet or the media to find out about the dimensions of this issue, it is not located anymore in the oceanic gyres, thousands of miles off the coast, in the middle of nowhere . It is just next-door, there is tons of floating plastic near the end of the Shanghai subway line 3, regurgitating and piling up their inert plastic carcasses, waiting to break up into tiny particles to enter the food chain. The fact that it is so near, so evident, so impressive, so accessible, should be sufficient to ring alarm bells. Regardless of how many times we visit this place, each tide, each storm, and each typhoon, a new pile of plastic gets moored on the shore. We have work to do.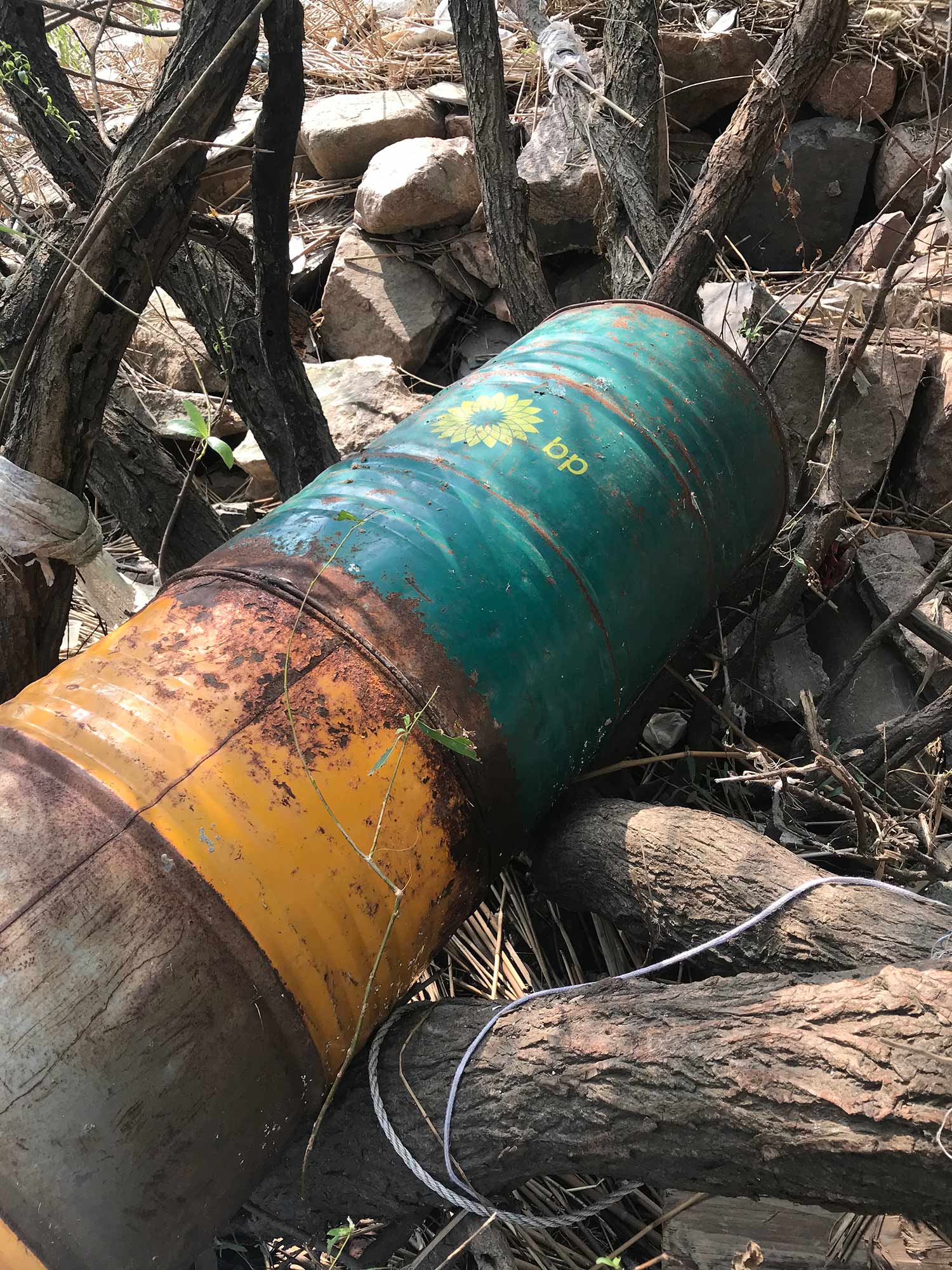 With this idea in mind, to create awareness, to start the discussion, to show the reality, to experience the urgent need to become responsible and more sustainable, Green Steps designed a field trip 3 years ago, that lasts about four hours, that is deeply impactful, educational and enjoyable. This field trip is needed because one of the big issues that we face in this era is that we move the problem away from our yards, where we cannot see it anymore, to the neighbors, wash our hands with sanitizer and turn our backs to cheers on the latest social gossip.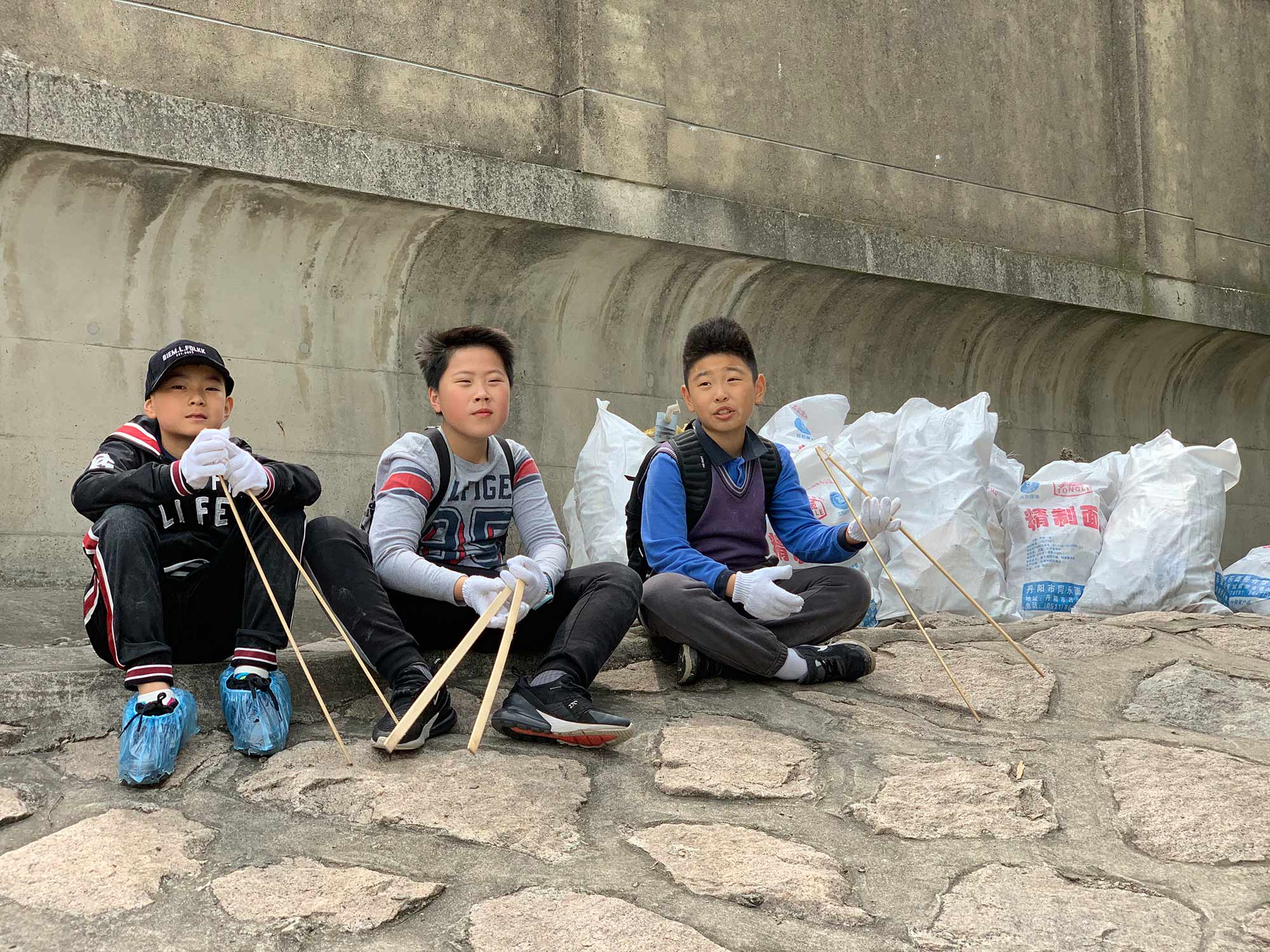 In this activity, the crew of Plastic Pirates, engages in an ecological journey to explore the park surroundings, learn about this special ocean wetland forest ecosystem in a practical way, observe its plants and animals, and perform a shoreline cleanup in a place where the hydrodynamics and morphology keep collecting waste as a warning sign of the sins in our society.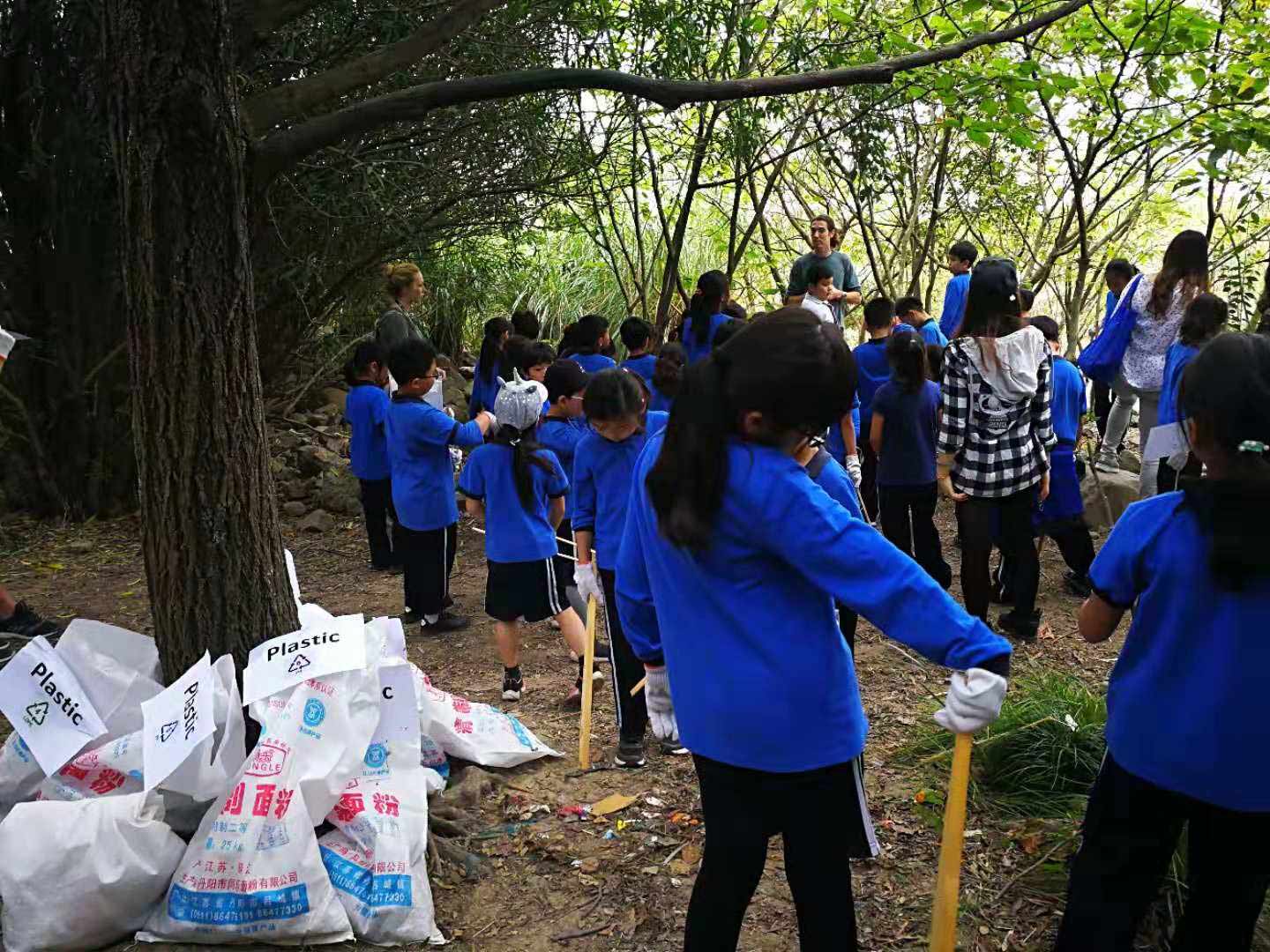 These are some of the comments that the Plastic Pirate crew shared after joining the activity:

Gregor: "Thanks again for the field trip. It left a deep impact."
Vanessa: "Thank you as well and all of your volunteers for a very informative field trip. The children and parents enjoyed it very much."
Pablo Gonzalez: "I enjoyed and I think Andrea too. Good lesson for the two of us."
Rebecca: "I'm so glad. Thank you again. Really enjoyed plastic pirates and looking forward to attending the next one if possible."
Anthony: "女童军环保♻️ 活动,当孩子看见这么多塑料垃圾他们都很激动,这样的活动非常好?"
Harriet: "I love what you guys are doing"
Dora: "Thank you again for everything! Christina could not stop talking about it until 6pm, when she started to cry that she's tired. She went to sleep and I had a wonderful 12-hours silence in the flat. Never happened before... "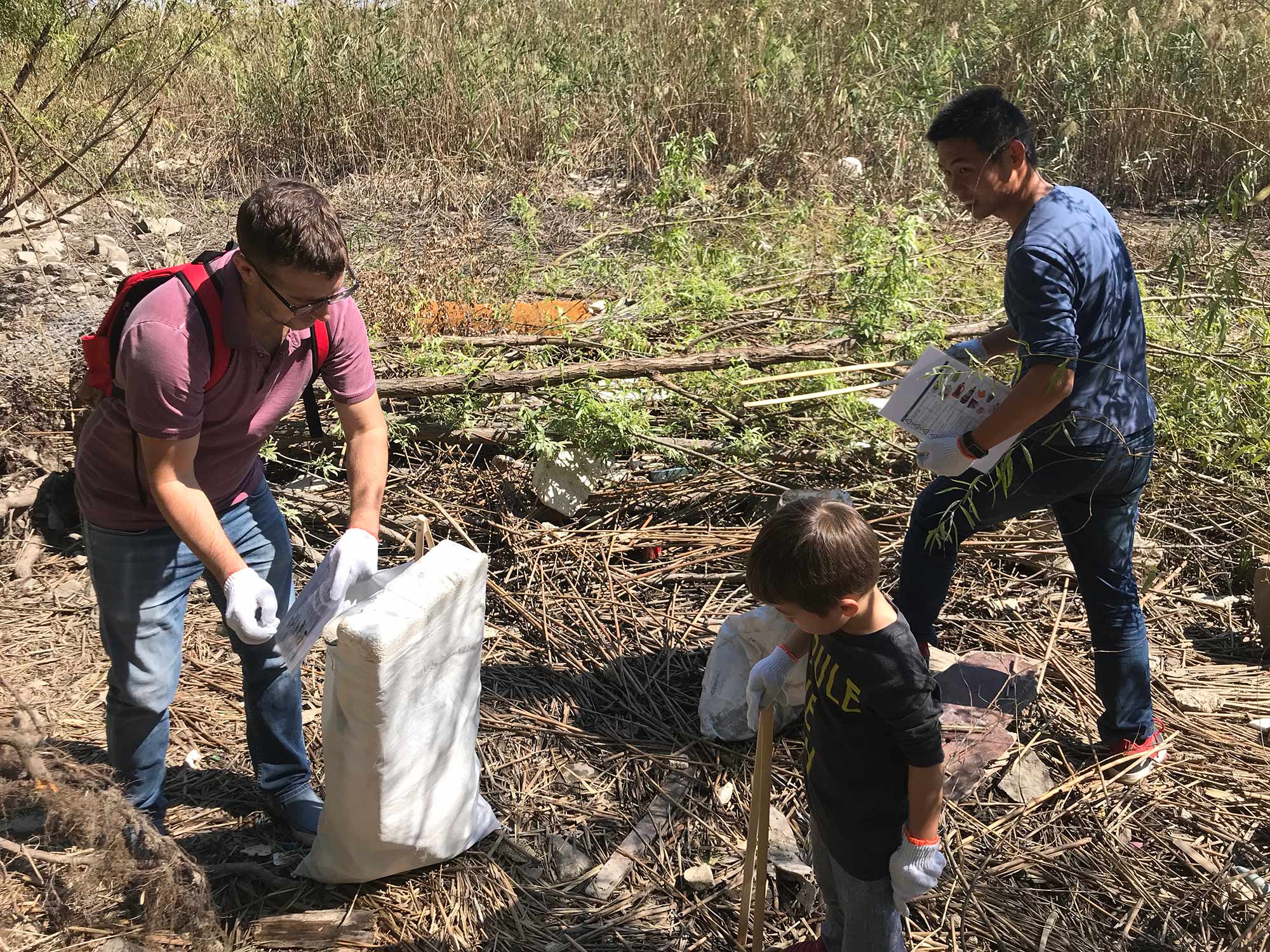 To date, Green Steps has run this activity 22 times with 529 total participants, mostly children aged four and above, and collected a total of 877 kg of plastic that otherwise would still be out there. But most importantly, everyone that joined in this experience went back home with a better understanding of why it is a serious issue, how enormous it is, why we should all care about this when we decide to consume another piece of plastic, and with the feeling that they enjoyed the process of learning about this issue, connecting with Nature. It leaves them with the desire to take another step.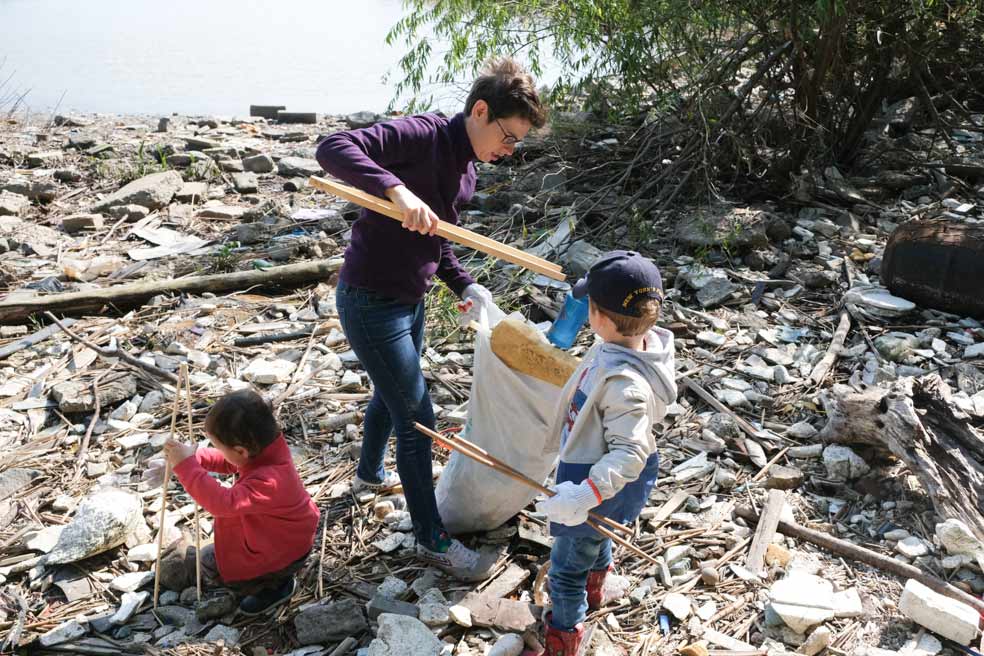 Finally, we would like to send a huge thanks to all who were involved in this project, in particular, to the organizations that contacted us to organize a special event for their community; and hope to continue to run it many more times, until at least everyone that we know is more aware of plastics and their impact on the environment.

Thanks to:
Green Initiatives
Shanghai Union of International Schools (SUIS)
Ninex
Life Solutions
Pivotal
Schneider
FedEx
Motherground School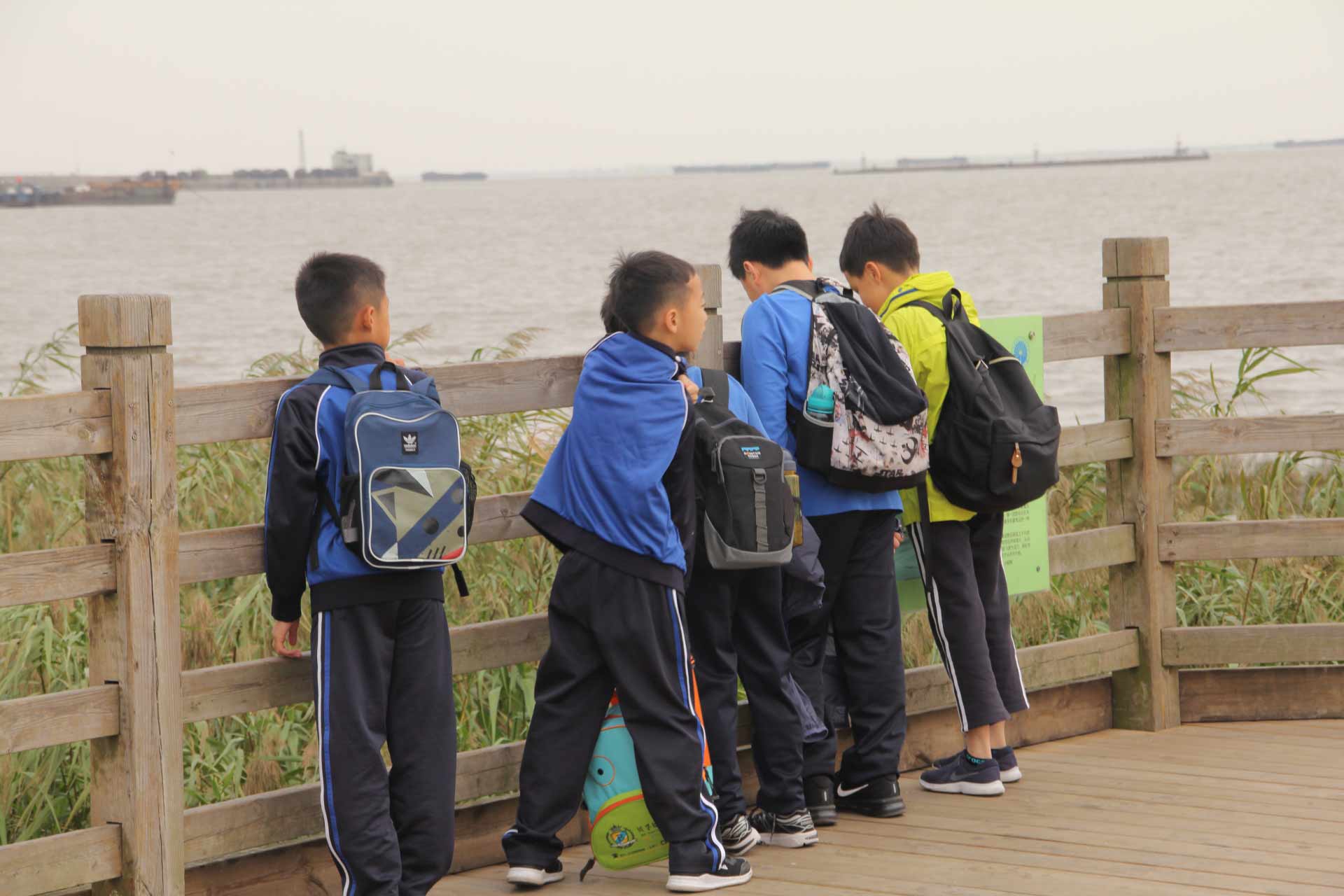 Remember that there is only one big ocean in this planet and all living forms depend on it for their lives, including us.
Further Reading